Selling SaaS in the Covid Economy
If you are involved with the sales process of a SaaS product, you deserve to know the latest information on trends, insights, and marketing.
The pandemic and its corollary, the shutdown of the majority of the US economy, have had a major impact on how we live, how we work, and even how we sell. 
One of the hottest parts of the US economy for some time has been the technology sector, with SaaS (software-as-a-service) being a major contributor. Studying the health of SaaS sales during and after the "COVID shutdown" gives us some insight as to how the US will come out of this unprecedented downturn.
To study this, we surveyed 755 B2B SaaS professionals who are part of the sales process at their companies in the second half of May and early June 2020. We also conducted 25 interviews with B2B SaaS sales leaders to go into greater detail and get a better understanding of what they are experiencing within their own organizations. 
Our extensive research into B2B SaaS sales professionals uncovered that:
93% of respondents are more likely to consider remote in the future as a result of the COVID shutdown
25.7% of respondents  had a very positive outlook for the second half of 2020, with very positive/positive responses outnumbering very negative/negative ones 4:1
Post-crisis, 35.2% of respondents are using live video as part of their sales process, with 77.6% using it at least multiple times per week.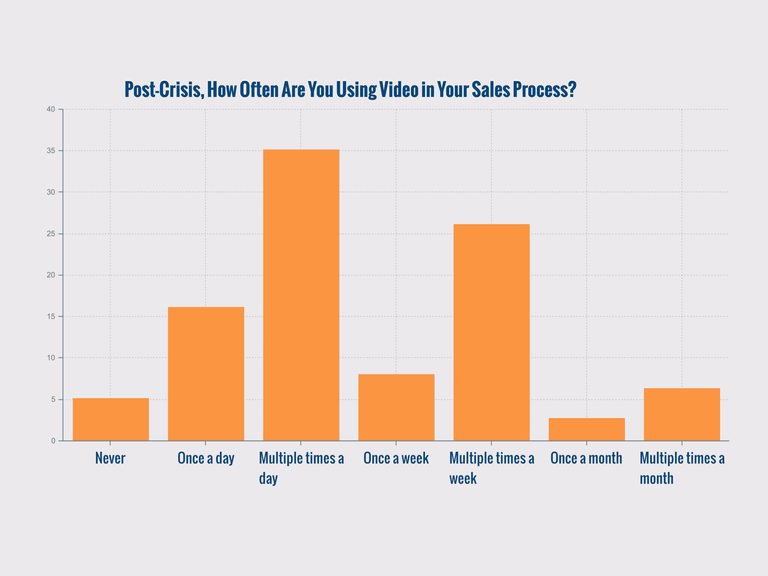 Our study also found:
Over 60% had over half of their sales teams begin working remotely for the first time as a result of the COVID shutdown, with over 40% expecting half or more of their sales team to continue working remotely going forward

The crisis affected the number of opportunities dramatically, with 36.6% indicating the number of opportunities had gone down, compared with 26.4% indicating they had gone up.

56% of respondents' ability to sell were affected by prospect budget cuts

The most effective sales channel prior to the crisis had been email, with 31.3% reporting this, followed by social media (27.5%), phone (22.4%), and webinars (13.1%).

32.6% have shifted some of my schedule to the weekend hours to accommodate for childcare, and other considerations; with 31.8% shifting to early morning and/or evening.